Our uniform is unique!
We love our uniform! It is bright, bold and beautiful. We are unique in Leeds – no other school has our colours!
We are bright, happy, shiny people and we wear our uniform with pride.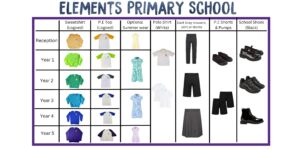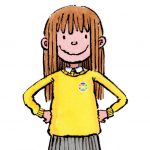 Every child will need a PE bag with the school logo and a school bookbag, also with the Elements logo.
Please label all items of your child's uniform clearly with their full name.
We ask that children do not wear jewellery to school. If your child has pierced ears, small studs are permitted, however these must be covered or removed for PE.
Our uniform is available to buy online from Rawcliffes.
Preloved
As part of our commitment to sustainability, we hold regular preloved uniform sales throughout the school year. Parents and carers can bring in any used uniform and exchange for a token, which they can put towards items from the preloved uniform sale.