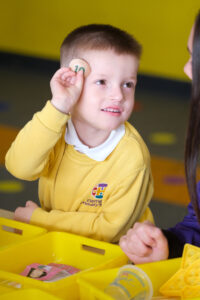 We have a passion for high standards in mathematics and believe that all pupils can become excellent mathematicians.
The national curriculum for mathematics aims to ensure that all pupils:
become fluent in the fundamentals of mathematics, including through varied and frequent practice with increasingly complex problems over time, so that pupils develop conceptual understanding and the ability to recall and apply knowledge rapidly and accurately.

reason mathematically by following a line of enquiry, conjecturing relationships and generalisations, and developing an argument, justification or proof using mathematical language

can solve problems by applying their mathematics to a variety of routine and non-routine problems with increasing sophistication, including breaking down problems into a series of simpler steps and persevering in seeking solutions.
In order to provide our children with the opportunities to meet these aims, we use a rigorous teaching cycle in which children have the opportunity to observe, practise, reason and apply key mathematical concepts. 
We use the White Rose Maths key resource. This ensures that our children are taught the key concepts and skills in sequential steps.  We believe that this systematic approach to mathematical learning embeds knowledge and understanding and creates meaningful changes to the long-term memory of our children.  
We ensure children across the school have the opportunity to learn using concrete, pictorial and abstract representations, believing that moving between these approaches enables children to connect abstract symbols with familiar concepts, supporting pupil's mathematics sense.